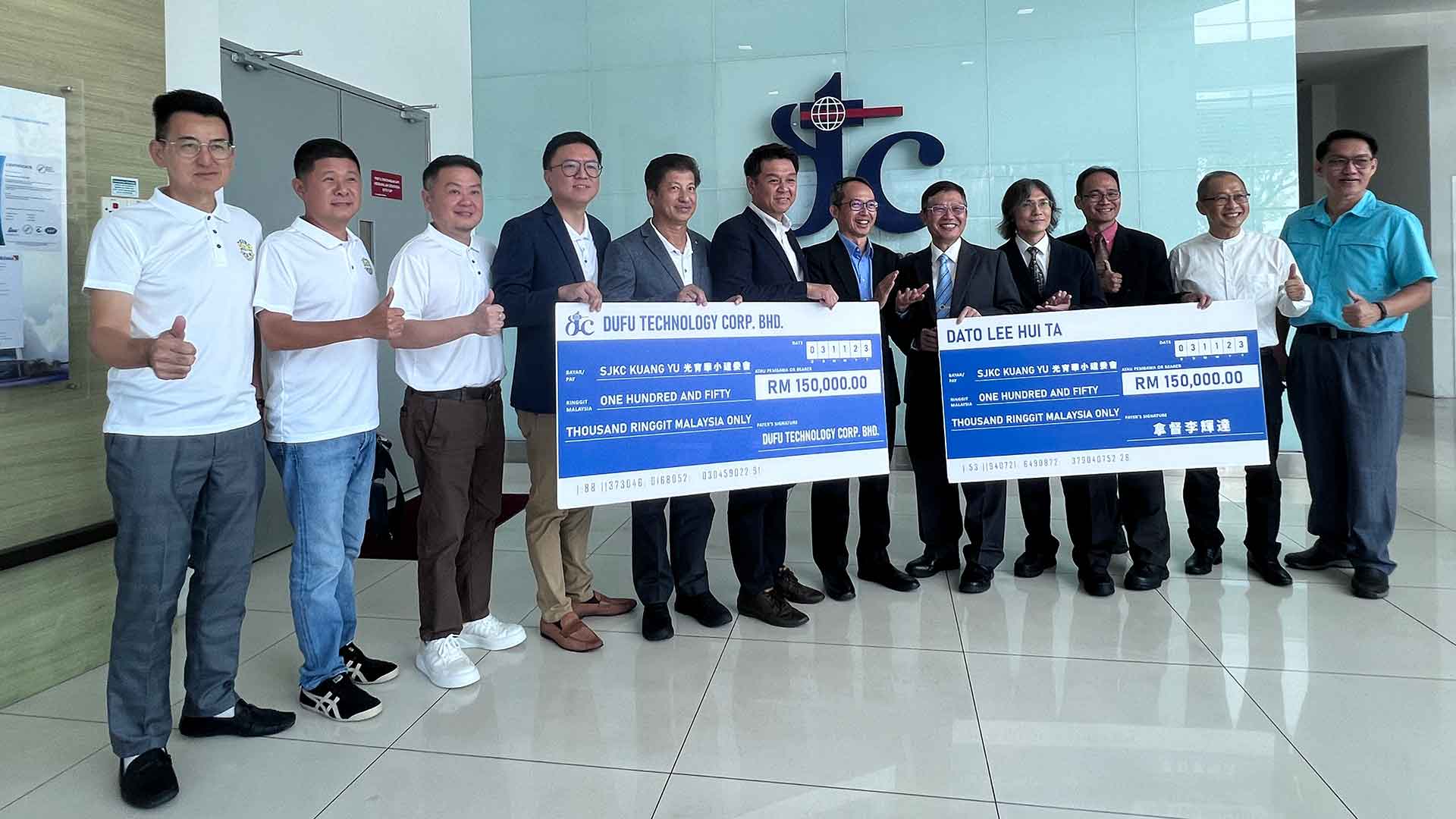 Dufu's Executive Chairman and Company donate RM300,000 to Kuang Yu Chinese Primary School for their Relocation Project to Batu Kawan
The 2-hour Cheque Handover Ceremony held at 10.30 am on November 3, 2023, at Dufu's Main Conference Room was a momentous event that brought together a distinguished array of guests, representatives from Kuang Yu Primary School, and the Dufu family in support of a noble cause. We fortunate to have some of the distinguished guests to grace the event such as:
YB Dato Law Choo Kiang (Speaker of the Penang State Legislative Assembly)
YB Heng Lee Lee (State Legislative Assembly Member for Berapit, N.13)
Dato Goh Kim Heong (Chairman of Kuang Yu Primary School)
Ng Wooi Cheong (Secretary of Kuang Yu Primary School) & representatives
Lim Kheng Yeow (President of Persatuan Siswazah – Siswazah Taiwan, Pulau Pinang)
Tang Joo Huat, Ooi Chong Tat, Loh Tick Chai (Persatuan Siswazah – Siswazah Taiwan, Pulau Pinang)
The event commenced with an opening speech delivered by Dufu's Executive Chairman, Dato' Lee Hui Ta. Dato Lee expressed his profound emotions as he addressed the audience, emphasizing the unwavering determination and hope associated with the relocation of Kuang Yu Chinese Primary School ("Kuang Yu") to Batu Kawan. For this, he made an individual commitment by announcing his personal donation of RM150,000 on top of Dufu's corporate donation of RM150,000 to support the successful relocation of Kuang Yu.
The event proceeded with a speech delivered by the distinguished State Speaker, Dato' Law Choo Kiang. Dato' Law expresses his heartfelt appreciation for DTC's benevolent contributions, acknowledging their pivotal role in the relocation of Kuang Yu to Batu Kawan. He also mentioned that Batu Kawan is home to numerous industrial and factory establishments, and the successful relocation and development of Kuang Yu will play an integral role in nurturing talent and providing employment opportunities, thereby supporting the local community and he hopes other factories within the vicinity will follow Dufu's CSR initiative.
The next Guest of Honour, YB Heng Lee Lee, the State Legislative Assembly Member for Berapit (N.13), commended Dufu for fulfilling its corporate social responsibility through its generous contribution to the Kuang Yu school building project. She anticipates that as Batu Kawan continues to flourish, the relocation of Kuang Yu to this area will benefit a growing number of local students. Moreover, it will provide reassurance to parents working nearby, ensuring the safety and quality of their children's educational environment.
She also emphasizes that, beyond government initiatives, the progress of education depends on the generous support of committed individuals and organizations. As such, she hopes that all sectors of society will continue to lend their support, further enhancing the quality of education in Penang.
Following YB Heng Lee Lee's speech, Dufu's Chief Financial Officer, Mr. David Khoo, took the stage to provide a brief introduction of Dufu's business operations and its CSR initiatives implemented over the years.
Mr. Ng Wooi Cheong, the school board secretary, then took stage to brief the audience and media the project milestones of Kuang Yu Primary School construction project. He mentioned that the overall construction project is expected to complete in 2025, and classes are scheduled to commence in 2027.
Finally, Dato' Lee, Hui-Ta, Chairman of Dufu and Mr. Teoh Chiew Hong, Deputy CEO presented the mock cheques of RM150,000 each to the representative of Kuang Yu Primary School. The invited guests were served with some refreshments at the end fo the ceremony.